A little birdie spotted some of our up and coming Clever Bluejay baseball players participating in the Play Ball Kids Clinic today at Hammons Field. The clinic was held by Queen City Crush, FCA's collegiate summer team. By the smiles seen here, we think these Bluejays were having a great time! #bluejaystrong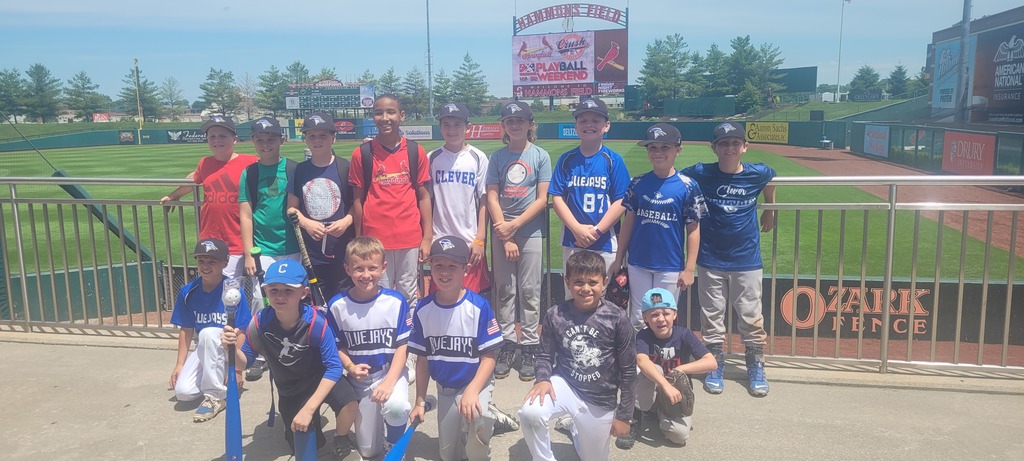 Officer Strodtman and Mrs. Hobbs attended Merging 2 Worlds…Defining the Roles of the School Principal and SRO. We are committed to partnering and putting our students' safety first!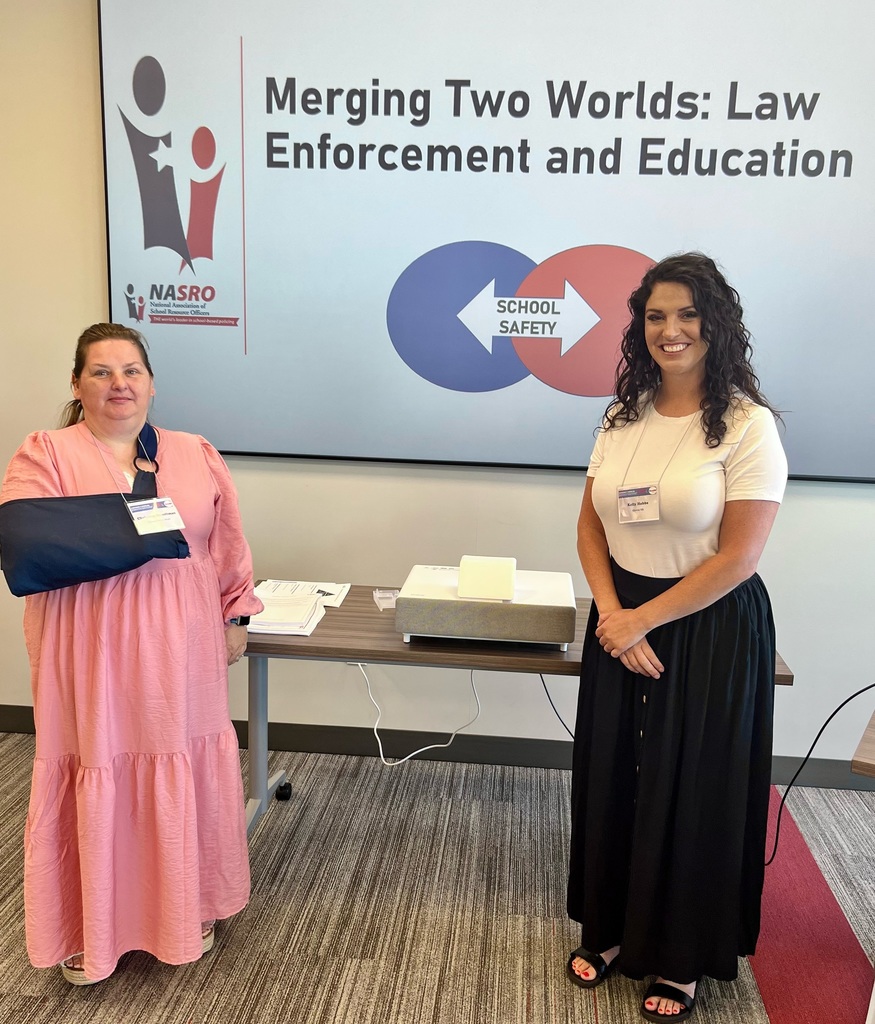 Graduation is almost here! In the event that you are unable to attend graduation but would like to join in celebrating our graduates, the ceremony will be viewable via livestream ​with the following link:
https://youtu.be/mY5OIfRRNGY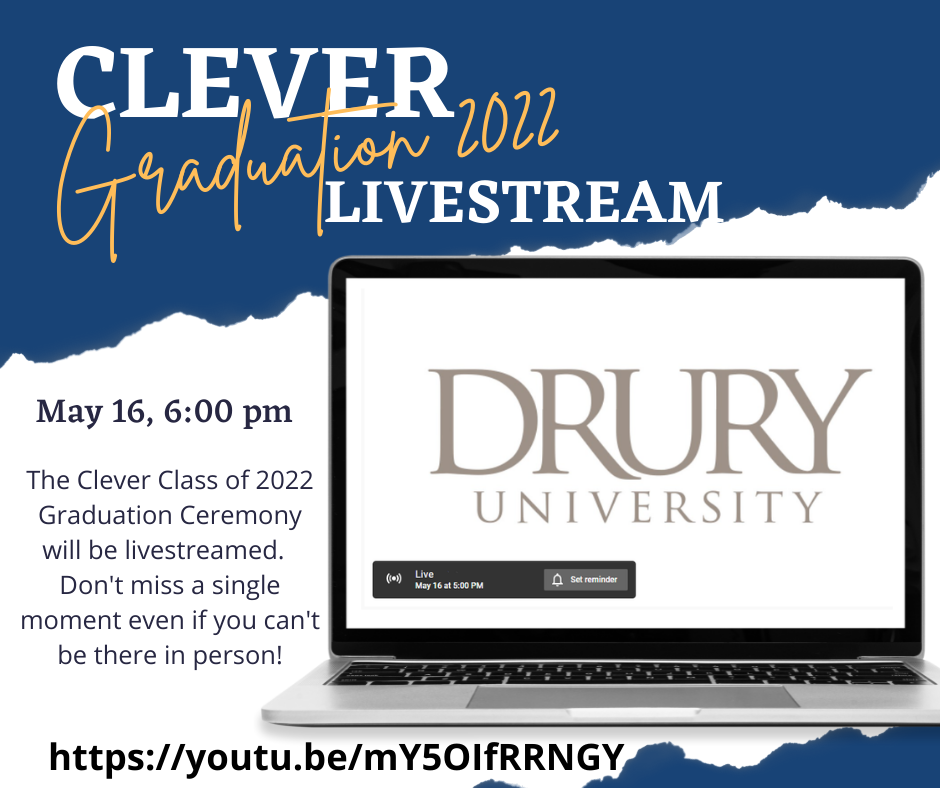 Yesterday, Clever School District hosted a Special Olympics track meet, and it was an amazing event! Nine area schools participated in events including shotput, javelin throwing, relay races, and many more. The spirit and joy of the event was evident on the faces of athletes, organizers, and spectators. We are #bluejayproud of our Clever participants and all the athletes. A huge shoutout as well to the Clever Police Department and First Responders! Besides being there to handle any potential emergencies, they were on hand to present the awards to the athletes. We are so grateful and suspect by the smiles on their faces, they enjoyed it as well. This full-day event takes a tremendous amount of planning and logistical maneuvering. Our sponsors, admin, faculty and students worked countless hours to make sure this day was a success, and their efforts were rewarded by the smiles everywhere. In particular, our Leadership Class worked extremely hard planning and executing the entire event. These students are to be commended on a job very well done! Clever Special Services Director Lyle Barber commented "Our student leadership team was phenomenal!" Thank you to everyone who worked to make this event happen. It was a good day to be a Bluejay! #bluejaystrong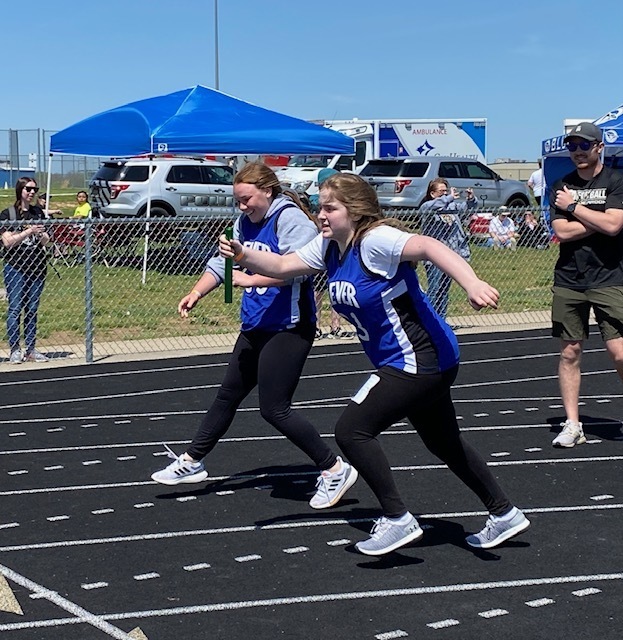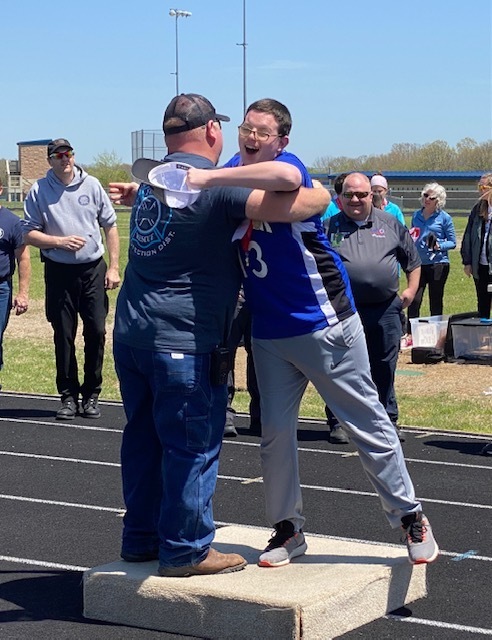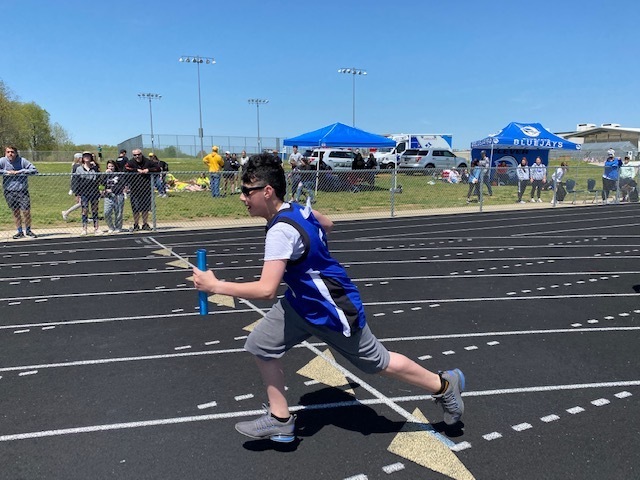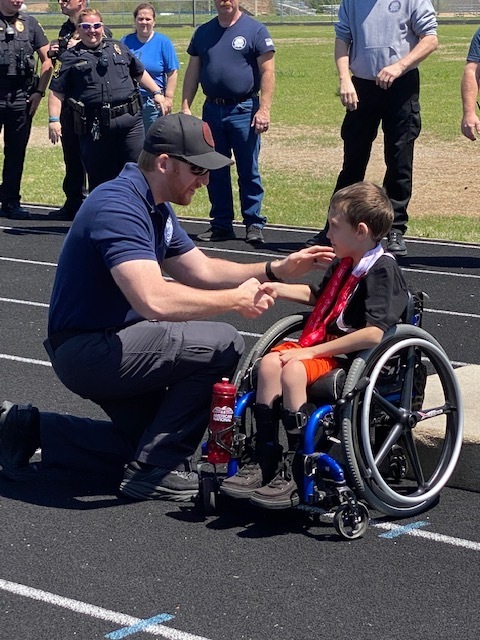 Clever School District is pleased to announce Officer Christina Strodtman has received certification as a School Safety Specialist. Officer Strodtman participated in the recent School Safety Academy sponsored by Missouri School Boards' Association's Center for Education Safety. We appreciate Officer Christina's commitment to the safety and welfare of our Clever students!

Clever hosted the 2022 Mid-Lakes Conference Math Relays last night. Our team did a great job and we medaled in nearly every single event. Congratulations--we are so proud of you! Millie Sapp - 1st Place Algebra 1 Individual Audie Haines - 2nd Place Algebra 1 Individual Max Jennings - 1st Place Geometry Individual Maverick Plank - 2nd Place Geometry Individual Ali Deckard - 1st Place Algebra 2 Individual Cade Clements- 2nd Place Algebra 2 Individual Millie Sapp, Audie Haines, Kiah Lake - 1st Place Algebra 1 Team Max Jennings, Maverick Plank- 1st Place Geometry Team Ali Deckard, Cade Clements, Adrienne Orphan - 3rd Place Algebra 2 Team Nate Bowles, Ryan McFail, Leti Govoni - 2nd Place Open Math Team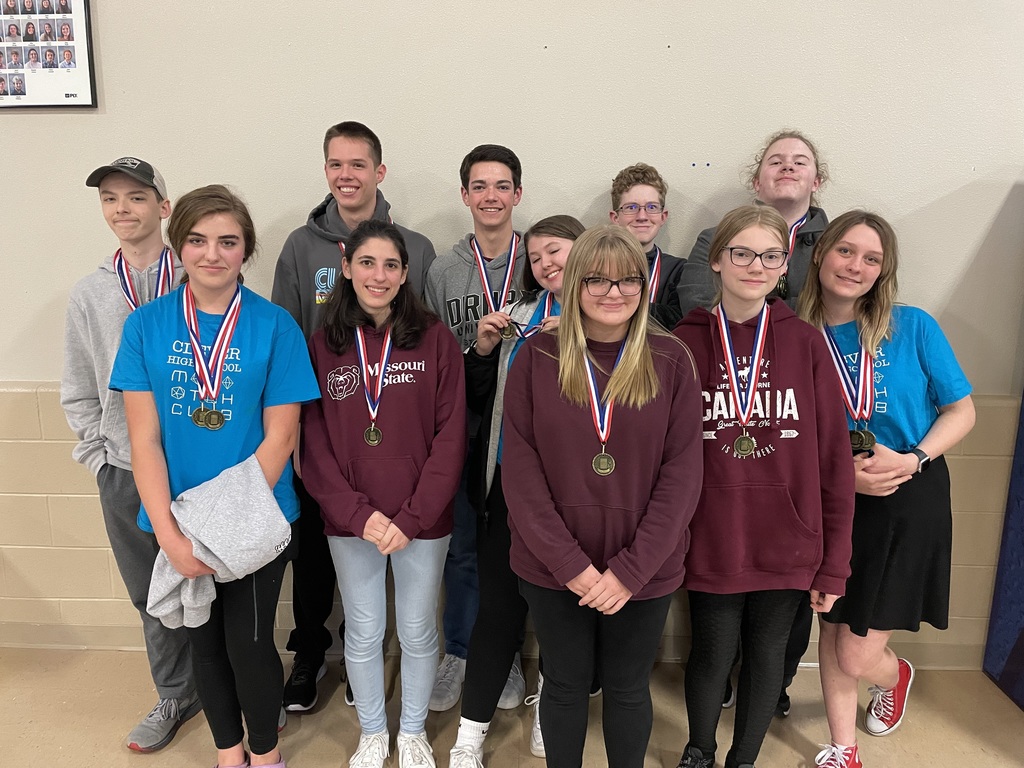 Don't forget-school will be in session Monday, March 28, and Monday, April 25. These are makeup days for the days we missed in November. The last day of school is now May 27. That will remain the last day even in the unlikely event of more inclement weather days.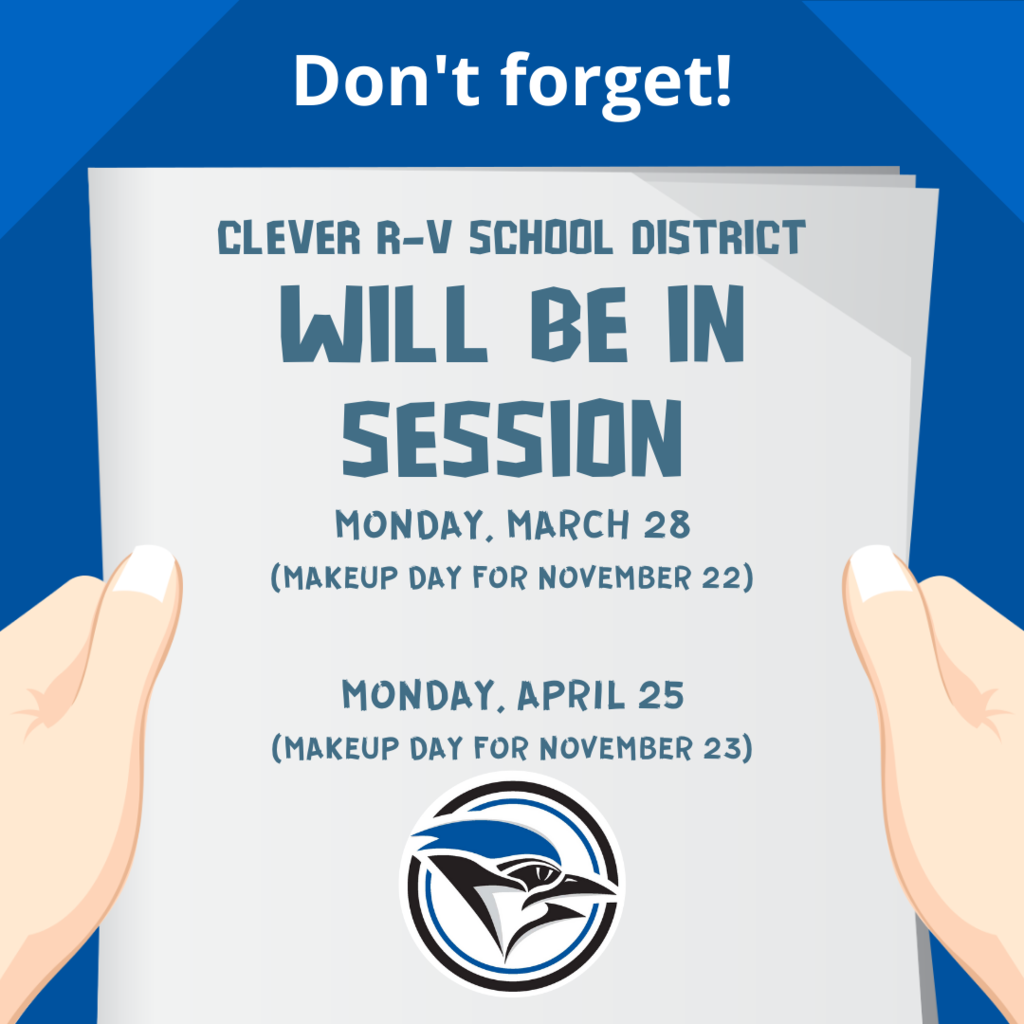 No School Friday, February 4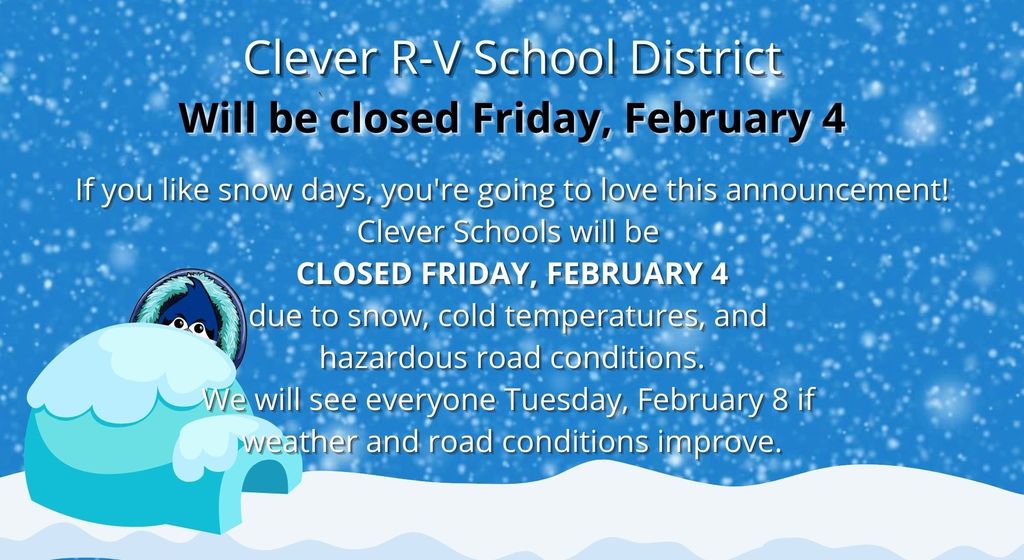 No School February 3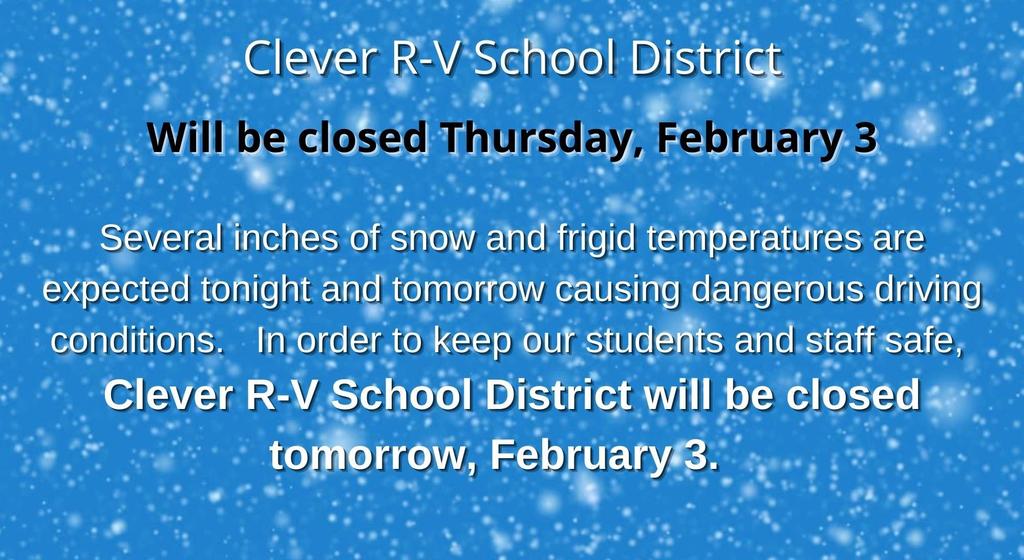 Clever R-V School District will not be in session Wednesday, February 2.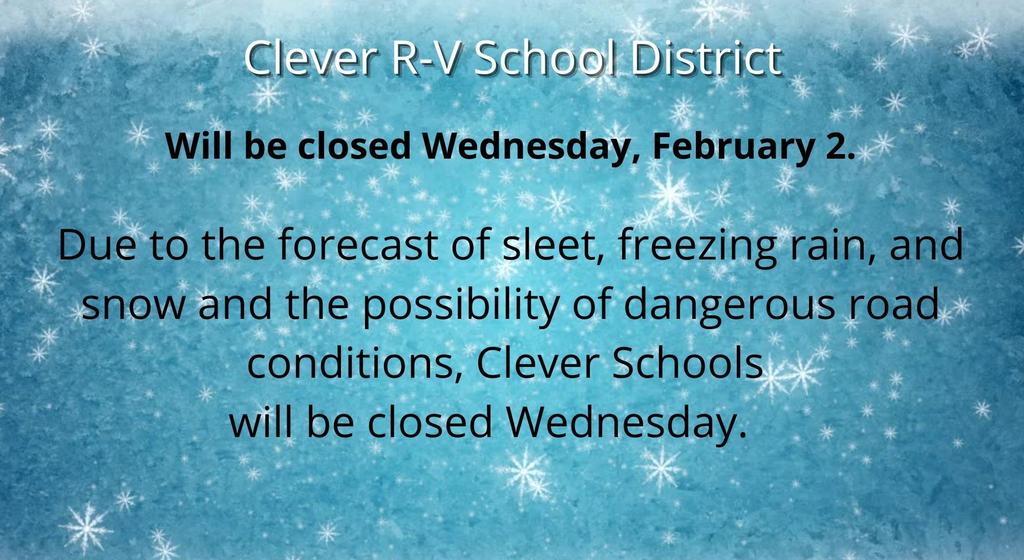 While we had hoped to return to seated learning tomorrow, the absentee rate among our staff and bus drivers has continued to climb. Because of this, Clever R-V School District is canceling in person classes for Thursday, January 20 and Friday, January 21. We will be utilizing AMI Days #3 and #4. We hope that these additional days will allow everyone a chance to get healthy. Our goal is to return to seated classes Tuesday, January 25th.

Due to the continued absentee rate among our staff and bus drivers, Clever R-V School District is canceling in person classes for Wednesday, January 19. We will be utilizing AMI Day #2. Please remember students will earn full attendance by completing all assignments. We will monitor staff absences closely in an effort to return to seated classes as soon as possible.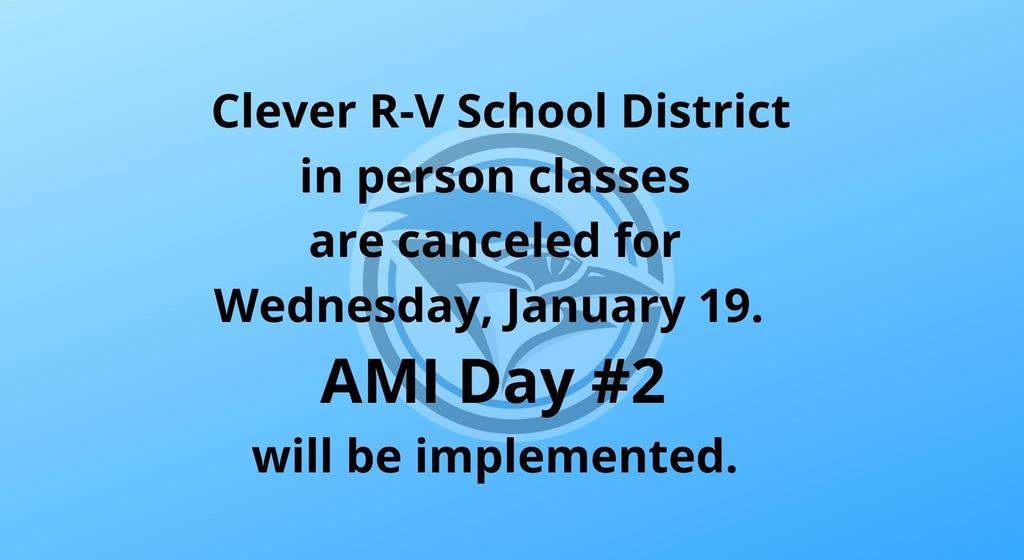 Although we have tried to avoid implementing distanced learning, the absentee rate among our staff and bus drivers is forcing us to temporarily move from seated instruction to remote learning. Clever R-V School District is canceling in person classes for Tuesday, January 18, and will be utilizing AMI Day #1. Per our AMI Plans, students will earn full attendance by completing all assignments. We are monitoring numbers and hope to return to seated classes as soon as possible.

Join our team!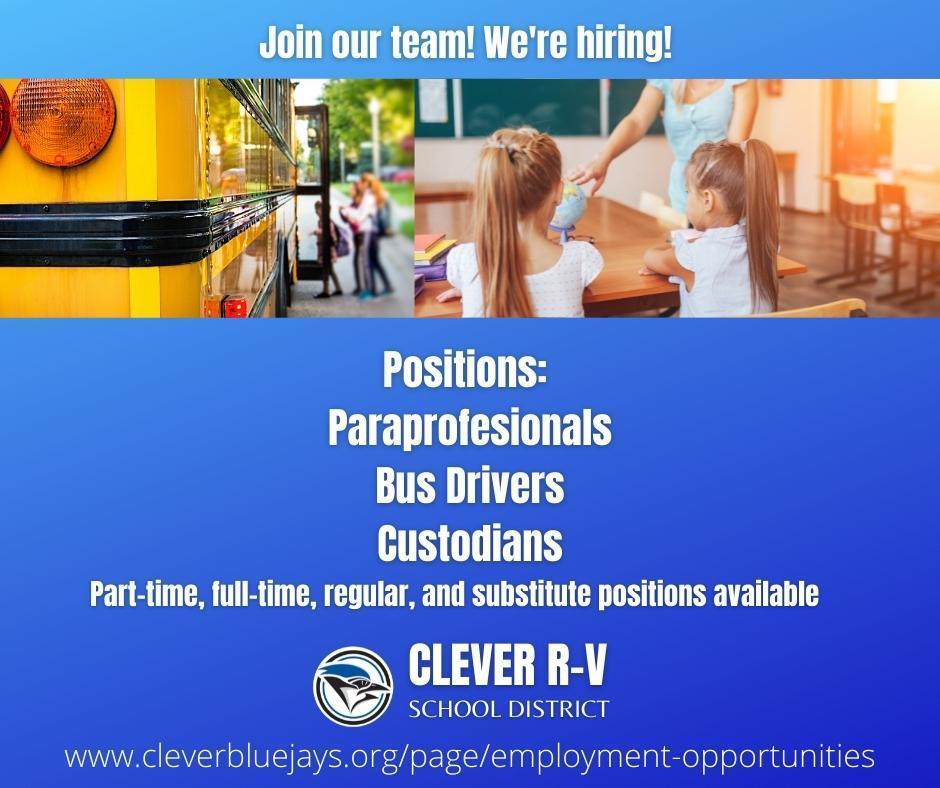 Mark your calendars for the Clever Choir Showcase on Friday, October 15 at 7:00 pm in the CPAC. The Showcase features over seventy 7-12 grade choir students who have been working hard to prepare a fun and entertaining evening of music! Tickets will be available at the door for $5.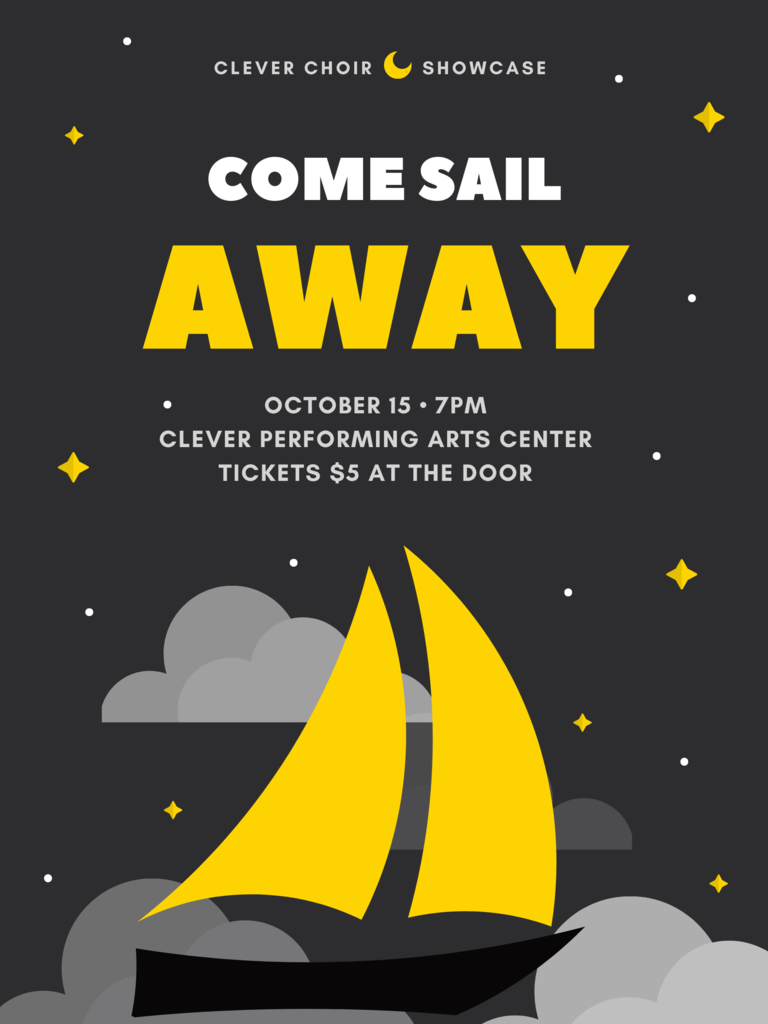 The month of October is now Socktober at Clever Schools! Join us as we collect new socks to be donated to local organizations.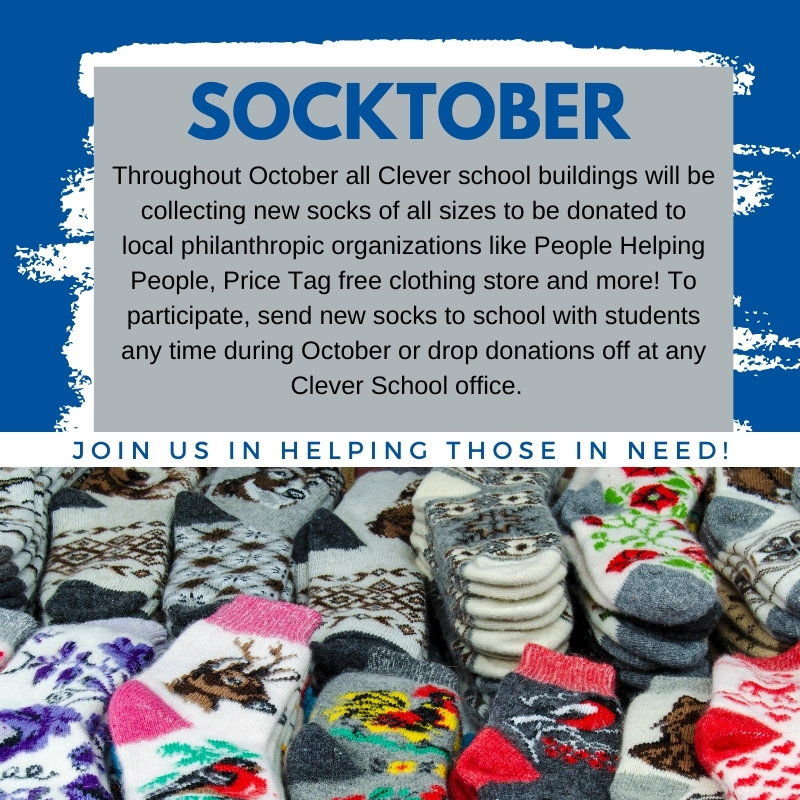 Ever wonder what goes on during teacher workdays? The answer is "lots of things!" Yesterday, teachers met in Impact Teams which focus on realizing where students currently are and utilizing instructional strategies to move them to the next level. They also met in Leader In Me lighthouse groups to plan ways to implement the Leader in Me habits. Some of our teachers also heard motivational speaker Alex Demczak's message. Alex is a former SEC quarterback for the Missouri Tigers. He is also an inspiring communicator who challenges organizations to maximize their potential and make a difference. He spoke to our teachers about the power of positive of leadership and the power of a positive team. As you can see, teacher workdays are packed full of meetings and activities we use to help move Clever Schools forward and remain #bluejaystrong!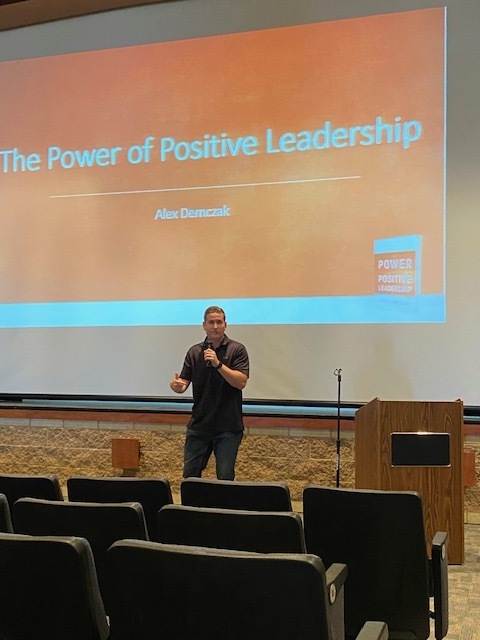 Our district is continuing to implement Leader in Me for grades K-8. Leader in Me (LIM) is a program developed to empower students with leadership and life skills. LIM believes that each child has unique strengths and has the ability to be a leader. The flyer below shows an overview of the 7 Habits. Our goal is to bridge the gap between home, school, and community as we continue this journey. Ask your students about Leader in Me!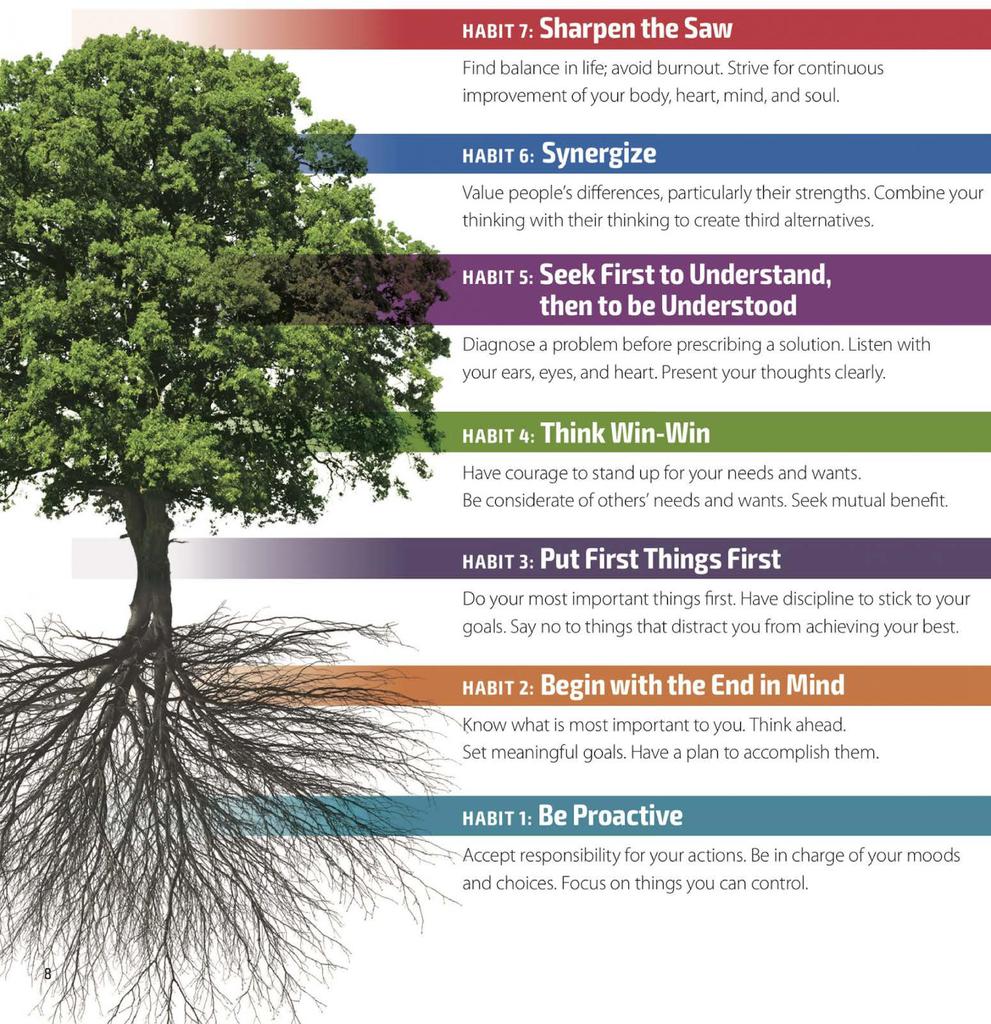 Mark your calendars and save the date! The Clever High School Graduation Ceremony will take place Monday, May 16th, at Drury's O'Reilly Family Event Center. See the flyer for more information. More details will be shared closer to graduation.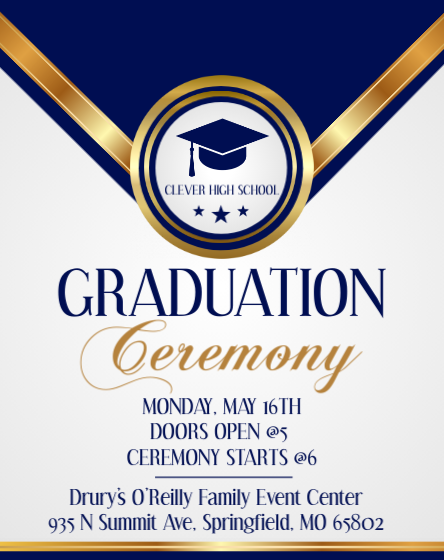 September is Suicide Prevention Awareness Month. If you're in crisis, there are options available to help you cope. You can call the National Suicide Prevention Lifeline at any time to speak to someone and get support. For confidential support available 24/7 for everyone in the U.S., call 1-800-273-8255 or visit
https://go.usa.gov/xftYC
. #shareNIMH